Have you ever wanted to add Mp3 files that you have received in email or text messages into your Apple music library so you can listen to them on iPhone? Apple doesn't make this easy for you. Probably because they don't want you to listen to music that you or your friends create. They want you to purchase an Apple Music subscription and listen to the crap that they can sell.
If you are a musician or have a friend who is a musician who does some home recording they have probably emailed or texted you Mp3 audio files of their songs. You can probably listen to it by tapping on the file in the message itself right but what if you like the music so much that you want to add it to your Apple Music App so that you can find it and play it without sifting through your email messages when you want to hear it again?
As far as I know, you can't import Mp3s into Apple Music from the iPhone app. If YOU are able to import Mp3s that people email or send to you in a text messages into Apple Music App on your iPhone, please enlighten me with a comment below in this blog post!!! Thank you very much!!!
So while I await your instructions, below are the convoluted steps I currently take to get music files that people like my friend Tin Whiskers email or text to me into Apple Music so that I can simply listen to the songs on my iPhone!
1 On my iMac go to the email or text message that has the Mp3 file attached to it.
2 Save the mp3 file to the folder in my iCloud that I created named "Mp3s to transfer". You can save this mp3 file anywhere but you need to be able to find it so you can IMPORT it into Apple Music using Apple's DESKTOP operating system.
3 Get the mp3 into apple music by going to file then import in Apple Music on the iMac!! Again, I think this can only be done on the desktop version of apple music. See Screenshot below

4 Once the file is in apple music on the iMac connect the iphone to the imac and go to the finder window and select the iphone. Wait a few seconds and this window should appear. Select MUSIC then Playlists then sync.
5 I created a Playlist in my Apple Music also named "MP3s to transfer". This is where I put files that people like Tin Whiskers send to me so that I can add them to my Music App on my iphone. Select this playlist and hit the SYNC button and then hit Apply.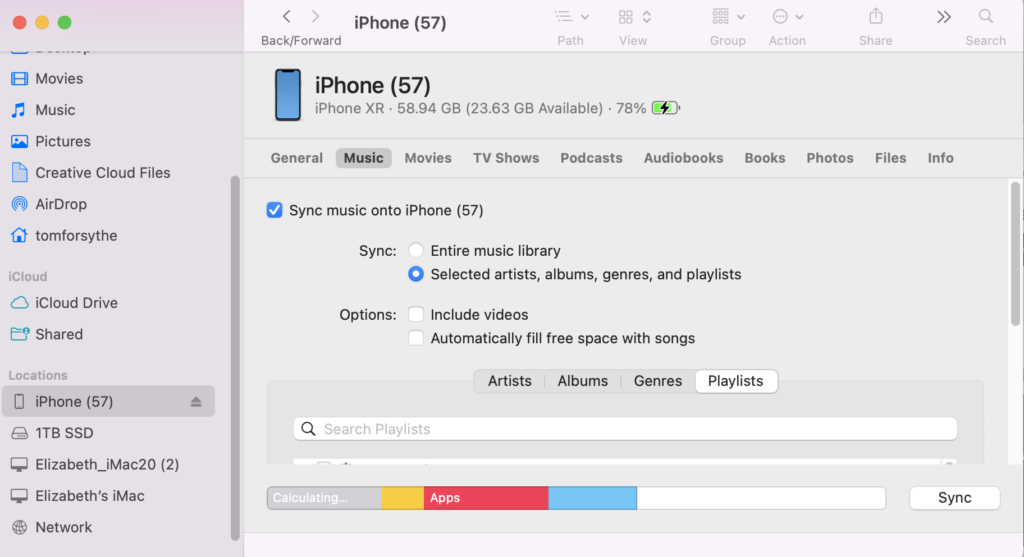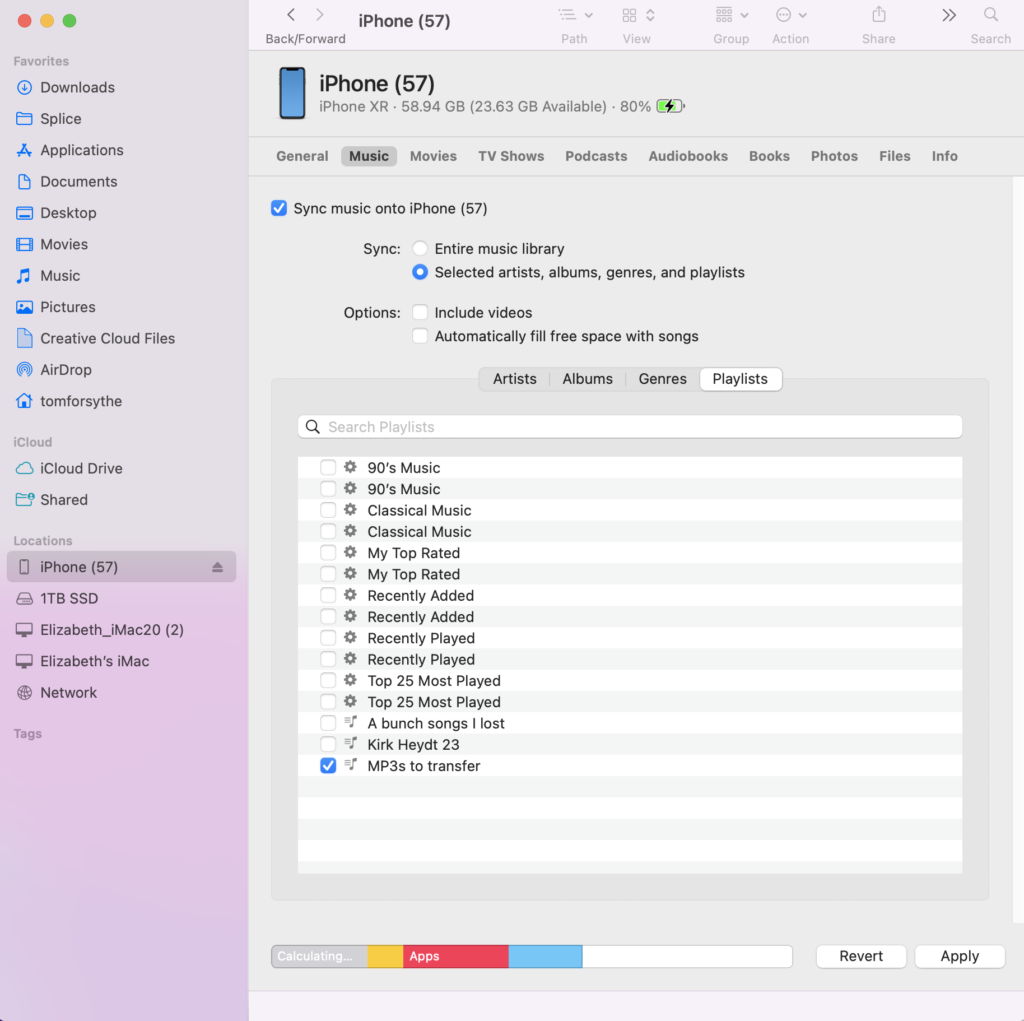 6 Now the MP3 file should appear in the playlist you selected above in your Apple Music App on your iPhone AND your iMac! On either device, you can also save the file to another playlist so that you can find it more easily later. For example I created a playlist named Kirk Heydt 23 and have synced this playlist to my iMac and iPhone so that I can hopefully keep adding songs to it as he sends to me.