How to connect Alesis Electronic Drum Set Module to External Powered Speaker like the JBL Partybox so that you can hear the Electronic Drum lessons from the

Melodics

app on an iPad in the external powered speaker and also hear the Alesis Drum set in the external speaker. Note: The JBL Party Box has two 1/4 inch inputs for a mic and a standard guitar cable.
Why would this be useful?
So that when two or more people are doing the Drum lesson with the Melodics App at the same time you don't need to pass the headphones around. In other words, you can all hear the lesson and the electronic drum set through an external speaker. This makes it possible to progress through Melodics lessons with your musical friends and family.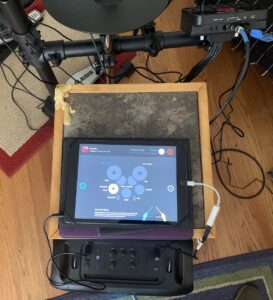 Here is how to make the connections from the iPad to Alesis Drum Module to the JBL Partybox Speaker.
Connect Ipad to Alesis using a lightning to USB adapter connected to the charging input on the iPad to the USB input on the Alesis Drum Module

Connect a standard quarter inch guitar cable to the Mono (left) output on the Alesis Module into the ¼ inch guitar input on the JBL-powered Partybox speaker.

Connect the cable to the ⅛ phones output on the iPad. Connect this cable to the JBL mic or guitar ¼ input with an  TRS  adapter.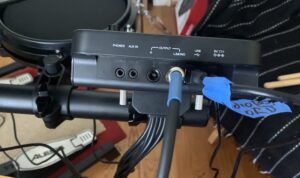 More about the Melodics lesson app.
You can start the free trial version at the link below. Use the link on your PC or iPad. I don't think it works with phones. 
https://melodics.com/download
What is this? "Melodics is a desktop app that teaches you to play MIDI keyboards, pads, and drums. Learn through playing songs, lessons, courses and exercises in contemporary music and genres you love."
I started the free trial on the laptop using the MPK Mini Pad Controller. It is pretty cool. I didn't even know what a Pad Controller was before I stumbled upon this "Melodics" website while I was researching the Alesis Electronic Drums. Melodics might be a really good way to get started learning how to make electronic music.
You can download the app on your PC. I can use either my MPK Pad Controller or the new Alesis Drum set. Once I connect either of these instrument the Melodics lesson will recognize the device and start you on the music course for that instrument. 
With the free trial you can practice for 5 minuetes per day. With the free plan you have up to 5 performance minutes per day. Performance minutes are counted as the time where you're actually practicing and playing courses, lessons or exercises. It does'nt include time spent browsing around the Melodics app, or in the pre-play screen before a performance.
Here is the getting started page for the App: